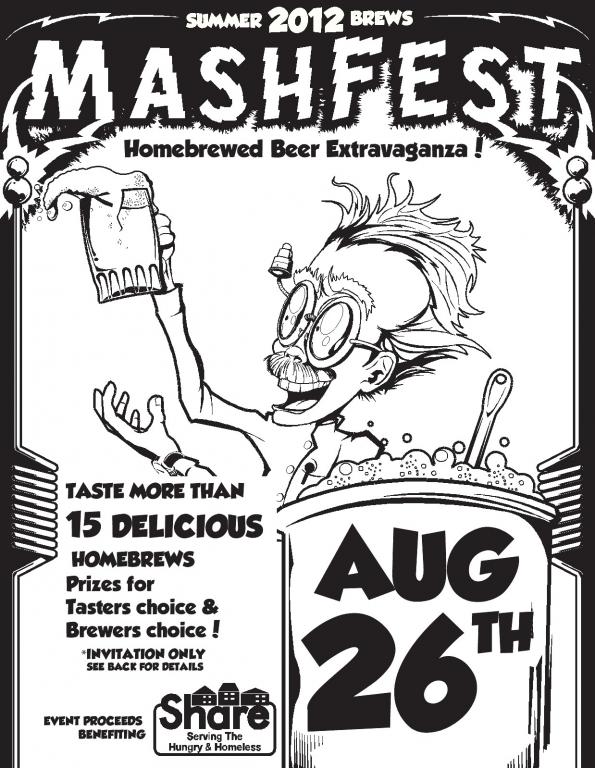 Mashfest Summer 2012 will be held on Sunday, August 26th at Mint Tea, 2014 Main Street, Vancouver, from 4 pm to 8 pm.
Mashfest is a small scale (not-for-profit) beer tasting festival of homebrewed beer, not open to the general public, but by invitation only.  The  "invitation only" part is is a Washington State Liquor Control rule.
Who invites people?   The homebrewers who bring their beer, and the organizing committee, and a general word of mouth thing here at Bader Beer and Wine Supply and Mint Tea.  It is a 4 hour event, where we have about 18 brewers bring some of their homemade beer to serve in 1.5 ounce "tastes" to about 75-100 people who have been invited, and have bought a $15 ticket in advance. (selling tickets at the door is prohibited by WSLCB)  After paying for all expenses, the organizing committee donates the balance to a local charity, with Share House receiving a $500 donation from the Summer 2011 Mashfest and the Hough Foundation receiving a $500 donation from the Winter 2012 Mashfest.  We have 2 Mashfests a year, one in late Winter/early Spring and one in the late Summer.
Mashfest is a great way for homebrewers to showcase their beer, and to taste other brewers homemade beer.
If you are interested in purchasing tickets online, go to Brown Paper Tickets http://www.brownpapertickets.com/event/259108
Date \ Time:
Sunday, August 26, 2012 -

4:00pm

to

8:00pm