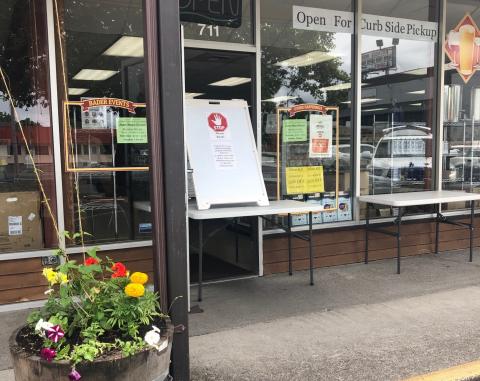 Updated Friday 9/4/20 12:00 PM
Customer and Staff safety is our top priority during this pandemic. While we would like to open our doors for customers to browse, we have a relatively small store and small aisles that make 6 foot physical distancing difficult. For this reason we do not anticpate opening our doors until Clark County has moved to Phase 3.
We have implemented a program of "Personal In-Store" shopping experiences where we have about a dozen slots per day available for 30 minute in-store shopping appointments every afternoon. Click here for the details!
We are filling your orders for Curbside Pickup and Home Delivery.
Here is how to place an order for Curbside Pickup or Home Delivery:
"Curbside pickup" here at the store.
There are 3 ways to order for curbside pickup.
1) Place your order via our web site and choose the "pick up in store" option. We will package your order as soon as possible, and notify you via the email you provide with the order when we are ready for you to pick up the order. Please give us 1 to 2 hours to get your order ready for pickup. We have added a "partial quantity" option to our 1 pound malted barley options to make it easier for you to order quantities other than whole numbers. You can order 3/4, 1/2, 1/4 and 1/8 pound of malt on these items. This method of ordering allows you to order 24 hours a day!
2) Call us at 360-750-1551 and give us your order over the phone. This will work best if you have special needs or have questions about possible substitutions. We will ask for credit or debit card payment over the phone so you do not have to enter our store.
3) You may also send an email with your order to steve@baderbrewing.com. This is helpful when you have special requests that our web site does not account for and during evening hours when the store is closed. When we have the order picked we will call you for credit card information. Please include your phone number in the email!
Order pickup instructions: We are packing your order and placing them clearly marked with your name on the boxes and bags on 4 tables outside and allow you to pick your order off of the tables to take home. PLEASE keep the social distancing guidlines of 6 feet between yourself and our employees. Please wear masks when picking up your order as others may also be on the sidewalk.
There are ongoing supply issues for some of our items. We ask that you be flexible with recipe substitutions during this time. We anticipate additional shortages in the next few months as vendors adjust to different working conditions and their own supply chain problems. I encourage planning ahead and purchasing key items like wine yeast a few weeks ahead of when you need the items.
As before, you can place an order on our web site to have your order delivered by Fedex Ground or USPS. Our west coast flat rate shipping fee is $6.99 on orders over $75.
*******Home Delivery via Fedex Ground and USPS:
1A) You can place an order on our web site and have it shipped to you for a flat rate fee of $6.99 on orders over $75. Our web site allows you to choose the shipper of your choice.
2A) Call us at 360-750-1551 and give us your order over the phone. This will work best if you need grain weighed and crushed. We will ask for credit or debit card payment over the phone to expedite your order.
Some items do not qualify for the flat rate shipping, check our web site for more details.
We are sanitizing surfaces frequently to best protect everyone.
September Store hours:
Mon-Fri 10 - 6 pm
Thurs - 10 - 6 pm
Saturday - 9:00 am to 5:00 pm
Sunday - 10:00 am to 4:00 pm
Regards,
Steve Bader,
Bader Beer & Wine Supply
360-750-1551
Steve@baderbrewing.com